Food After a Fire in the Bay Area!
11/5/2019 (Permalink)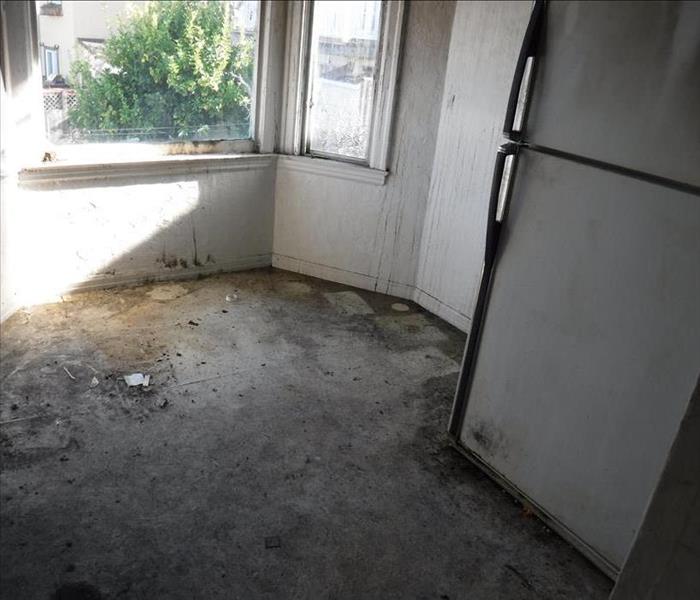 This Kitchen was affected by an Electrical Fire. The Smoke and Soot can be seen throughout the Floor and Walls. All the Food had to be disposed.
What About My Food!
Many wonder what foods can be saved and eaten after a fire. It's understandable to want to save as much as possible and not let foods go to waste. However, it must be taken into account that foods, opened or unopened, do become contaminated by fires and can cause health risks.
Unfortunately, not only can foods be affected by fire directly, but can also become affected by the water, chemicals, smoke and by heat damages caused by fires. The toxic fumes from fires also contaminates the food. Strong smoke odor or rotten food odor is a sign the food is no good.
The smoke, soot, toxic fumes along with other contaminates in the fire permeate through the air which taints the food. The food can be fresh, packaged, sealed and even in the refrigerator or freezer and can still become contaminated because the seals are not all completely air tight. Even canned foods, foods in jars, bottles can be affected by the heat of the fire causing the foods to slowly cook within which can be harmful to eat.
It's not recommended to try and eat the foods to see if it's good or not. It's highly recommended to throw away and dispose of foods that have been in or around a fire to avoid getting sick.
If you have questions or need assistance give SERVPRO of South San Francisco City/ San Bruno a call at 650-794-1000. We are here to help!