Drying Equipment during Water Restoration
1/3/2018 (Permalink)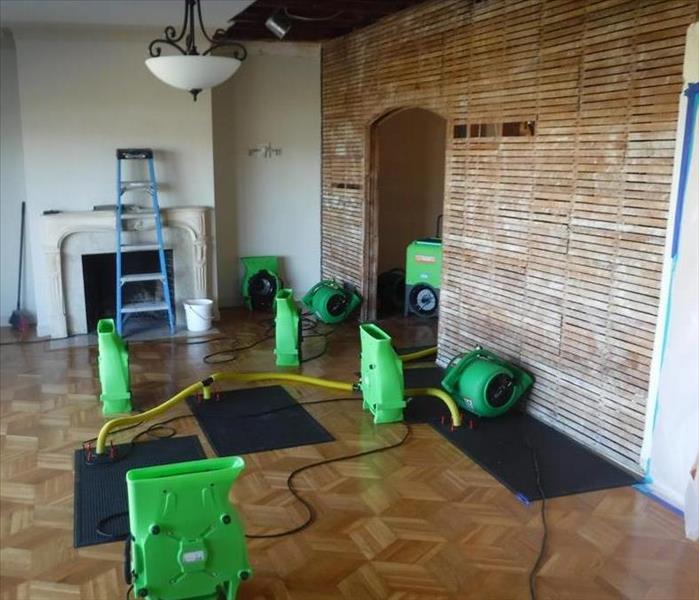 The Drying equipment is in full effect at this location. Saving and Drying Hardwood Floors and Wood Framing.
The Importance of Drying Equipment!
During Water Restoration it is very Important to set up Drying Equipment right away. Drying involves the Removal of Water. The Drying Equipment Lowers the Humidity and Traps the Moisture in the Air. Any standing water should be extracted prior to any Drying Equipment placement.
In order to Dry certain materials you must prepare to remove moisture from the air. Setting up a Drying Chamber around the affected Area will contain the moisture in the air. Drying Equipment is placed within the Drying Chamber to Heat Up and Extract that moisture from the air and materials. All the Equipment work hand in hand together.
Drying Equipment is placed to Dry Carpets, Drywall, Wood and Framing. Specialty Drying Equipment can also be placed to tackle unique drying challenges. Especially when you are attempting to Dry certain materials like Hardwood Floors, Tile, Inside Walls or Under Cabinets.
It is very Important to never turn off the Drying Equipment during the Drying Process. If the Process is Stopped you will need to start the Process all over again.
Contact SERVPRO of South San Francisco City/ San Bruno to start your Water Restoration with Drying Equipment at 650-794-1000