Cleaning can Prevent Mold in Homes!
7/17/2018 (Permalink)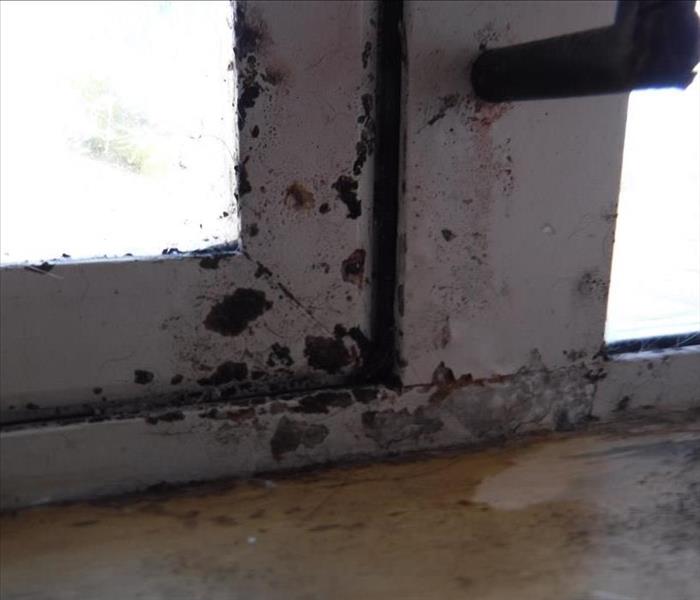 This Window Sill has Built up Dust and Condensation. Cleaning on a regular basis will prevent this kind of Build Up.
Did you know Cleaning Habits can Help Prevent Microbial Growth!
SERVPRO of South San Francisco City/ San Bruno receives many calls to Inspect Microbial Growth in Residential Homes and Businesses. Usually the Visible Microbial Growth we see everyday are around Counter Tops, Sinks, Bathtubs, Shower Enclosures, Windows and even on the Window Blinds. This usually happens because of Dust and Condensation Build Up.
Many don't realize is Dust is made up of tiny particles that consist of plant pollen, earth, waste matter, hair, skin cells, food, mold spores and even bacteria. The Dust can be carried in the Air and can Rest on the Ground or Surfaces. When Condensation Builds Up the Dust becomes Moist which usually feeds and starts the spread of Microbial Growth.
It's best to perform Good Cleaning Habits on a regular basis. Good Cleaning Habits are dusting, wiping, brushing, mopping, sweeping and vacuuming which will remove the Dust from the Surfaces. Also, Airing Out the Home or Business by opening windows and doors on a regular basis will help prevent Condensation Build Up.
Contact SERVPRO of South San Francisco City/ San Bruno if you need a Deep Cleaning at 650-794-1000.